FA Respect Video
At Runcorn Linnets Junior FC we understand the importance of allowing children the ability to enjoy the beautiful game. It seems such a simple thing to say, but for some children the pressure heaped upon them by their elders can damage a child's love for football.
This kind of applied pressure can not only have negative affects on a child's emotional development, but also their football development too. If you really want your child to improve as a footballer then nurture their love for the game, they're more likely to play football with their peers and improve through practice. Don't apply pressure to them, you may find that it can be counterproductive to your goals. A child with no pressure is more likely to express him or herself better on the pitch.
Here is one of The FA's Respect films featuring actor Ray Winstone, aimed at highlighting the pressures placed on young footballers by angry and aggressive parents.
We encourage everyone to watch it at least once, it's quite a hard-hitting video and an eye-opener for some parents and carers. Remember, this is kid's football. Not the Prem!
Parents, Carers and Spectators Code of Conduct
The aim of Runcorn Linnets Junior Football Club is to create a warm & safe environment for boys and girls to learn and enjoy the art of football. To enable us as a club to fulfil this aim, we must abide by rules and know our boundaries. Runcorn Linnets Junior Football Club therefore abides & adheres to the FA'S respect programme to ensure football can be enjoyed in a safe, positive environment. Children's football is a time for them to develop their technical, physical, tactical and social skills and remember winning isn't everything.
I agree as a Parent/Guardian/Carer/Spectator I will:
1. Appreciate children's involvement in playing football should be primarily for his/her own personal enjoyment and play my part and observe The FA's Respect Code of Conduct for spectators and parents/carers at all times.
2. Encourage and guide my child to accept responsibility for their own behaviour and performance for example;
 Develop a responsibility in your child to pack his/her own kit, clean boots and bring along their water bottle full.
 Encourage my child to speak with the coach. If your child is having difficulties in training or games, or can't attend training etc. encourage him to speak directly to the coaches. This "responsibility taking" is a big part of becoming a mature person. By handling off the field tasks, your child is claiming ownership of all aspects of the game.
3. Assist the club to look after my child's welfare for example;
 Monitor your child's stress level at home. Keep an eye on them to make sure that they are handling stress effectively from the various activities of life.
 Monitoring eating and sleeping habits. Be sure that your child is eating the correct foods.
 Ensure your child is in bed at a reasonable hour on the night before a game to ensure that adequate rest is being taken so not to cause fatigue and endanger their safety and the safety of others on the pitch.
 Help your child keep their priorities correct. They need to maintain a focus on schoolwork, relationships, and other things in life besides football.
 Help your child to focus on the performance and not the result.
4. Develop an appropriate supportive relationship with the coach, club and my child based on mutual trust and respect. For Example parents/guardians should;
 From the outset and where appropriate seek clarification with the coach and players, exactly what is expected of them and also what they are entitled to expect from the coach and the player.
 Support all the players in your child's squad. Do not criticise any player.
 Do not criticise the opponents, their parents, coaches or the referee
 Respect all pitch side perimeter barriers and will not enter the field of play at anytime
 Display high standards of behaviour and never use foul or abusive language or engage in aggressive behaviour before, during or after a match and lead by example to uphold the spirit of the game and the good name of the club.
 Not coach from the pitch side during matches and training.
 Not criticise your child or any other child on any part of the player's game, leave this to the coaches since it may cause confusion and erode the player's confidence.
 Do not criticise your child's coach to your child or other parents, if you are not happy with the coach you should raise the issue with the coach directly.
 Respect all managers and referee decisions on match days & at training sessions
 Be your child's best fan and support him/her unconditionally. Don't criticise them when he/she performs below their standard.
 On transporting your child home, please be supporting and always focus on the positive aspects of his/her game.
 Respect the facilities and players and officials at our opponents' grounds at all times
 Co-operate fully with specialists (e.g. other coaches, officials, sports, doctors, welfare officers) in their own interest.
 Promote the positive aspects of the sport (e.g. fair play) and never condone violations of the laws of the game, behaviour contrary to the spirit of the laws of the game or relevant rules and regulations or the use of prohibited substances or techniques.
 Respect the rights dignity and worth of each and every person and treat equally within the context of the sport. Praise positive aspects of play and avoid becoming frustrated or ridiculing young players by focusing on their failings. Any form of Bullying, harassment and racial and/or sexual remarks will not be tolerated by the club.
 Adhere to all guidelines laid down within the constitution and the rules of the relevant Football Association.
 Not exert undue influence to obtain personal benefit or reward
 Emphasise to your child the importance of striving to win, not winning itself. Praise effort and performance more than results.
Social Media:
Your actions on social media (Facebook, Twitter, Forums etc.) may have serious consequences. Negative comments, inappropriate images, bullying, criticism, racism, sexist or derogatory remarks not only impact negatively on the people they are about, they reflect badly on yourself, your child and on Runcorn Linnets FC & Juniors that you represent.
If you are found to have acted improperly on social media by breaching any of this part of the code of conduct requirements set out above regarding a football or club related matter, you may be required to face a hearing of the Junior Executive Committee to explain your actions.
Through such hearings, disciplinary action may be imposed such as suspension or deregistration from the Club. In some circumstances it may be necessary for Runcorn Linnets Juniors to notify the police.
THE ABUSE OF REFEREES AND OFFICIALS, VISITING MANAGERS/OFFICIALS, PARENTS, SPECTATORS AND PLAYERS EITHER VERBALLY, PHYSICALLY OR IN ANY OTHER FORM BY ANY PARENT OR GUARDIAN OR COACH WILL NOT BE TOLERATED IN ANY INSTANCE.
Runcorn Linnets JFC operates a zero tolerance policy towards parental/Guardian misbehaviour. Any parent/spectator found to have not adhered to all elements of the Club's Rules and the Responsible Parents/Carers/Spectators Code of Conduct will automatically be excluded from the club. In addition their child may also face exclusion on either a temporary or permanent basis to be decided by the Junior Executive Committee members.
I understand that if I do not follow the Clubs Codes, any/all of the following actions may be taken by the Club, County or National FA or League:
(This list is not exhaustive)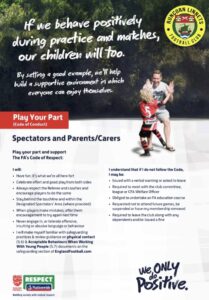 I may be:
• Issued with a verbal warning from a club or league official
• Required to meet with the club, league or Welfare Officer
• Required to meet with the club committee
• Obliged to undertake an FA education course
• Obliged to leave the match venue by the club
• Requested by the club not to attend future games
• Suspended or have my club membership removed
• Required to leave the club along with any dependants.
In addition:
The FA/County FA could impose a fine and/or suspension on the club